BATHROOM PLUMBING IN TYLER, TX
Lucky Duck! There's Rub-A-Dub Plumbing.
Rub-A-Dub Plumbing can handle your bathroom plumbing problems.
Bathroom plumbing issues can bring your morning to a halt. Whether it's a clogged sink, a toilet that won't flush, or a shower not draining.
Consider all of the years of hair and hair products, detergents, oils and toothpaste that go down your bathroom sink drain. A shower drain doesn't have it much better. And the commode—talk about a thankless job for your bathroom plumbing system. After years of use day in and day out, sometimes you're faced with the fact that it may be time for a bathroom makeover.
What do you want your bathroom to be, an apology or a showplace? Don't allow slow drains to be a pain. Why not let us help you create a space where you can relax and revel in a spa-like experience?
Our bathroom plumbing and drain professionals can solve any type of problem related to the sinks, faucets, showers, tubs, toilets, water lines, and drains in your bathroom.
When you think about it, we spend a substantial amount of our lives in the bathroom, so why not rely on Rub-A-Dub Plumbing to make it, not just functional, but a showplace.
A New Tub or Shower Can Refresh Any Bathroom!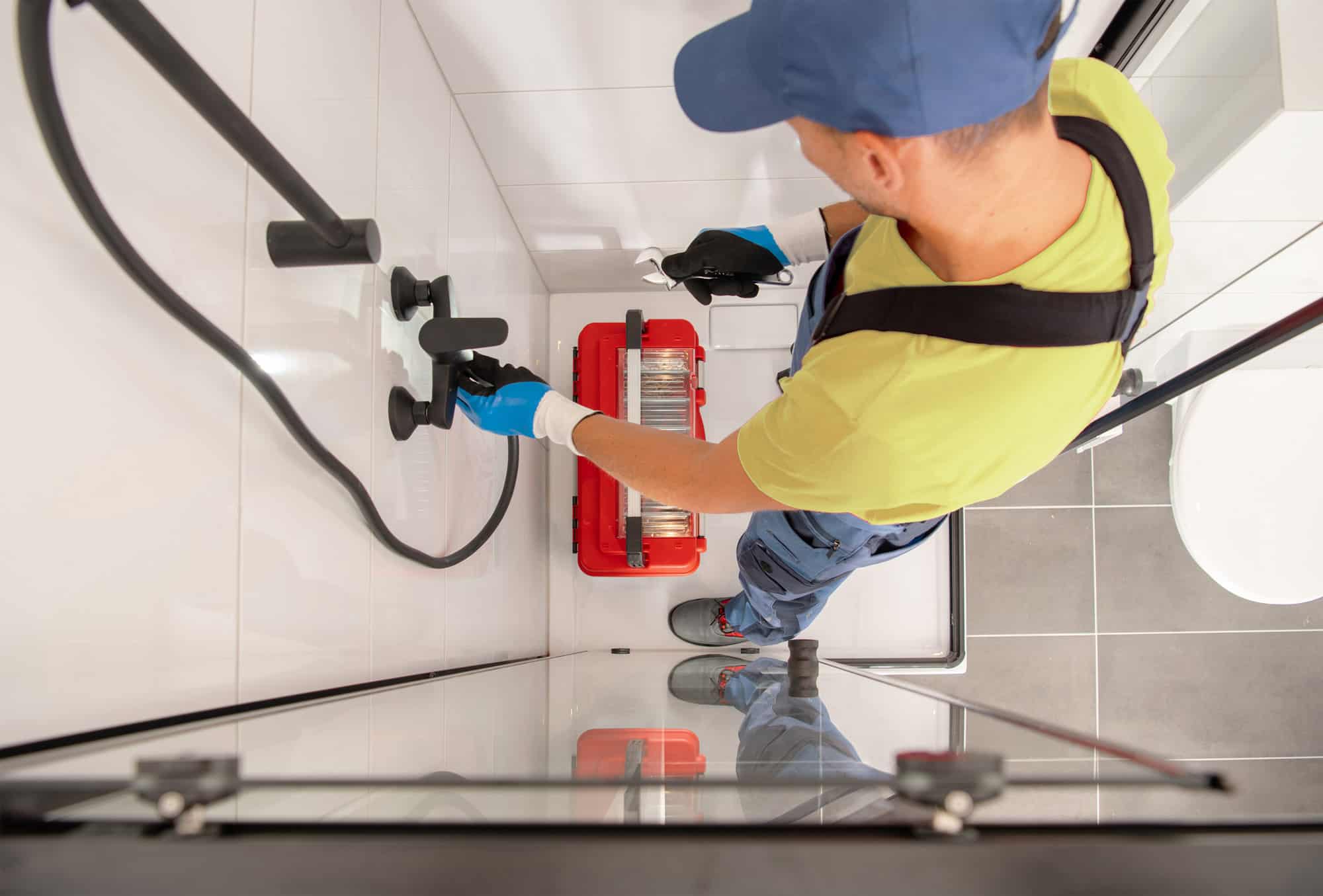 The shower or tub can be the focal point of a bathroom. A deep, luxurious tub can be the perfect escape. Some tubs have massaging jets and built-in seats. For older home-owners, the clawfoot tub can be intimidating, but a tub with their special needs in mind is a godsend. If you're more the type that loves to escape with a long shower, let Rub-A-Dub Plumbing install a walk-in shower with jets that massage you from head to toe. Did you know the right shower head can turn an ordinary shower into an amazing experience? These days, many people opt for massaging shower heads and models that can remember your temperature preferences. Many modern, low-flow shower head systems are designed to provide the same satisfying feel of a traditional shower head, and models that detach from the wall (and act as your imaginary microphone when you sing) are still popular as well. With options like that, your family will be jostling for position in the morning – and maybe even again at the end of the day! Count on our Squeaky Clean plumbers from Rub-A-Dub to install it right!
When the Vanity and Counter Are Counter-Productive
The family grows – or maybe you've become an empty-nester. Either way, your counters and hardware may seem out of date, or just aren't as useful anymore. That's when new fixtures, a sleek new faucet, or perhaps a new vanity set will bring new life to your bathroom. The key to an attractive fixture upgrade is a uniform look. If you pair stainless steel faucets with brushed brass cabinet hardware, your bathroom will appear cobbled together. Need some help with that makeover? Rub-A-Dub Plumbing can help.
Keep in mind, though, that some prep work is in order. First off, we take into account the flow of traffic during the process. We'll make sure the pathway to your bathroom is protected, so your carpet or flooring are not ruined. We also ask that each customer prepare the bathroom by removing all items, from the counters, cabinets and showers. A good rule of thumb: anything that can be damaged should be removed to make way for one of our professionals. Keep in mind that a part of the overhaul may include work on your plumbing lines. This may entail replacing old pipes or running new ones. No matter your bathroom needs, a Rub-A-Dub expert can repair it and install it.
Our Faucet Knowledge Is a "Turn-On."
No matter the type of faucet – cartridge, disk & ball or compression – keep in mind that a Rub-A-Dub truck is like a warehouse on wheels! When we arrive in our truck with the bright blue duck, chances are, we've got just the replacement faucet you need without a bunch of trips to and from the supply house.
New toilets, sinks, and fixtures are some of the best ways to give your bathroom a quick boost. Even a tired, old sink can get a new lease on life with some updated hardware.
When You Think Sink Installation, Think Rub-A-Dub!
Today, toilets and sinks come in many different styles, most of which are high-efficiency models. Some homeowners prefer an old-fashioned look combined with modern engineering; others offer the sleek silky designs of the modern age. What matters is expert installation and maintenance, so they function as perfectly as they look!
Speaking of functionality, when your bathroom plumbing is leaky or clogged, our precise and professional plumbers won't quit until everything is running smoothly again. Running or leaking toilets, broken toilet bowls or tanks, improper flushing, or you have to jiggle the handle way too often? Not a problem for the SQUEAKY CLEAN plumbers from Rub-A-Dub.
Same with drain and water lines; you'll want to make sure that if you're rerouting anything like that in a remodel, you'll want that job done right. When things go haywire and something springs a leak, our 24/7 emergency services are a specialty of ours. When you have a bathroom plumbing emergency, we'll be there for you.
The Bright Blue Duck Is Keepin' It Green
If you're looking for green, water-conserving solutions for your bathroom, we have plenty of recommendations friendly to the earth while washing away your high utility bills. Our advanced, water-saving products and fixtures are perfect for homeowners who want to lower their utility bills as they also reduce their water usage. Our plumbing professionals can recommend green solutions for every use. And as always, Rub-A-Dub experts will give up-front pricing before any work begins.
OR Fill Out the Form Below!
At Rub-A-Dub Plumbing, we've got our DUCKS in a ROW.
THE SQUEAKY CLEAN
PLUMBING EXPERIENCE
SCHEDULE SERVICE:
CLEAN PLUMBERS
MAKE FOR SOME
Squeaky
Clean
Pipes!