SEPTIC TANK REPAIRS IN TYLER, TX
Lucky Duck! There's Rub-A-Dub Plumbing.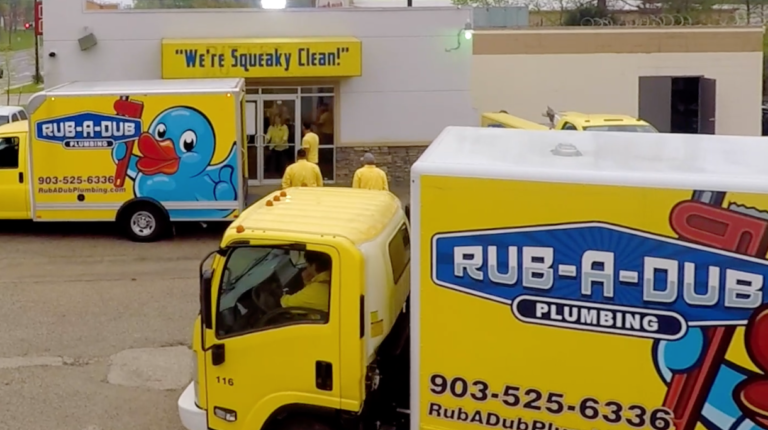 Comprehensive SEPTIC TANK Services in East Texas
If your toilet is running slowly or your home is filled with unpleasant odors, it may be time to have Rub-A-Dub perform septic tank service.
Who better than a squeaky clean plumber to tackle that … stuff? You might say that our company was built from the ground up on the septic business. But that's what makes us the "go-to" guys for septic tank installation and septic problems.
Count on Rub-A-Dub Plumbing for 24/7 septic tank service.
Maintenance is Key
To keep your septic system in excellent condition, just follow a few tips:
Don't park cars, plant trees or shrubs or build structures over your septic tank.
Never put baby wipes, paper towels or diapers down the drain.
Keep a precise diagram of your septic tank to avoid wasted labor time trying to locate the tank.
Unlike biological additives, many chemical additives advertised to avoid septic tank pumping may in fact damage your septic system.
It can't be stressed enough that hiring one of the professionals at the family owned Rub-A-Dub Plumbing to pump your

septic tank service

is always recommended over a first time do-it-yourself job.
So What's Going On Down There?
Let's start with how a septic tank works. Unlike a municipal sewer system that flows into a central drainage system that the city maintains, your septic tank is typically buried on your property where wastewater from your home flows. Upon entering your septic tank, wastewater is sectioned into three possible levels. Firstly, solid waste drops to the bottom section and bacteria turn the solid matter into sludge. Next, the majority of the middle section is comprised of water. Finally, fats and oils rise to the top section to form scum. The sludge then moves the water through pipes into the drainfield. At this point, all of the waste is distributed into the soil.
Do You Really Want to Go There?
Keep in mind that although it's tempting to take on yourself to save a few bucks, pumping your own tank is better left to the professionals here at Rub-A-Dub. One reason for this is that sludge from the tank needs to be sealed in specific containers and disposed of while adhering closely to safety measures. This is why we always recommend having septic repairs done as part of septic tank service performed by professionals with years of experience, using professional tools.
OR Fill Out the Form Below!
At Rub-A-Dub Plumbing, we've got our DUCKS in a ROW.
THE SQUEAKY CLEAN
PLUMBING EXPERIENCE
SCHEDULE SERVICE:
CLEAN PLUMBERS
MAKE FOR SOME
Squeaky
Clean
Pipes!