EMERGENCY PLUMBER SERVICES
IN TYLER, TX
Disasters Ignore Your Schedule. Emergency Plumbers Don't.
Remember the last time you had a plumbing emergency in your home?
Chances are, it felt like the worst possible time for it to happen. Here's a challenge for you: imagine the worst type of plumbing disaster that could ever happen. Here's a good one: a fractured pipe causes water to fill your yard. Even worse—a broken sewer pipe causes muck to creep under your floorboards. Now imagine the worst time of day or night for this disaster to occur.
Now picture a Rub-A-Dub plumbing professional at your service, equipped with the knowledge and tools prepared for just about any emergency plumbing issue known to man or woman. Take comfort knowing our professionals are on duty 24 hours a day, seven days a week, 365 days a year, equipped to offer emergency plumbing services other companies may steer away from.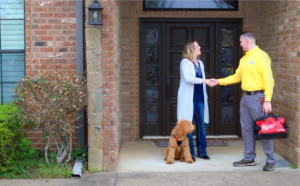 Emergency Plumbing Service Features
When it comes to a plumbing emergency, you don't want to waste time with some substandard "service" person. The background-checked and drug-tested technicians of Rub-A-Dub Plumbing will not smoke or swear in your home and will treat your property with the utmost respect.
When you call us with your emergency, we promise to:
Respond immediately
Arrive in a well-stocked truck
Resolve the problem
Leave our work area cleaner than we found it
Make certain you are 100% satisfied before we leave
CALL RUB-A-DUB, YOUR EMERGENCY PLUMBER FOR...
Water Heater Replacement
No hot water is no fun!  Water Heater leaks can cause major damage to your home and furniture and the average water heater lasts between 8-12 years.  If you are experiencing no hot water or a leak in the vicinity of your tank, call the State Water Heater Certified professionals at Rub-A-Dub Plumbing.  Our technicians arrive in a fully stocked truck – including water heaters – so we can restore you hot water immediately.
Puddle under a pipe? Unpleasant surprise inside a cabinet? Sinking feeling when you look under your sink? Leaks can be a costly nuisance that, if not taken care of right away, can turn into a moldy, mildewed health hazard. These drips usually happen at joints, which is why your local hardware store has so many commercial joint fillers and fitting compounds. Those solutions are just temporary. What you really need is a permanent plumbing repair done by a professional. While replacing a leaky U-joint under your sink isn't a complex repair, it will be a messy one. You'll want to have the professionals from Rub-A-Dub handle it for you. Call us up, and while we're on our way, shut the water off at the main valve, use a compression clamp, and a rubber sheet or leak tape. These temporary repairs keep water from spraying but are easily removed when it's time for a permanent solution.
Any leak in your plumbing system can be hard to detect, and also difficult to diagnose. Sewer leaks can often be mistaken for a leak on a water supply line. A sewer leak on your drain line, or main sewer line, can also damage your property. A sewer leak inside your home can damage sheet rock, floors, carpentry, and other valuable objects such as cabinets. Left unchecked, leaking sewer water can lead to mold, and more serious structural damage.  Sewer water leaking from a pipe joint or broken pipe washes away the soil supporting the drain system, gradually causing sags to your drain pipes. Time to call in the SQUEAKY CLEAN plumbers from Rub-A-Dub Plumbing.
The Rub-A-Dub Difference
Here's what you can expect from our plumbers: we will quickly get to your home, repair the problem completely the first time, and will do a complete inspection of your plumbing to ensure no other problems are bubbling right below the surface. Our quick response is why Rub-A-Dub is the area's first phone call, 24/7, 365 days a year when it comes to emergency plumbing services.
Do you need emergency plumbing service in Tyler, Gun Barrel City, Lindale or surrounding areas? Don't hesitate to call the guys with the bright blue duck on the truck!
OR Fill Out the Form Below!
At Rub-A-Dub Plumbing, we've got our DUCKS in a ROW.
THE SQUEAKY CLEAN
PLUMBING EXPERIENCE
SCHEDULE SERVICE:
CLEAN PLUMBERS
MAKE FOR SOME
Squeaky
Clean
Pipes!