SEPTIC TANK INSTALLATION
IN TYLER, TX
Lucky Duck! There's Rub-A-Dub Plumbing.
Keep Strange Odors Away With Your New SEPTIC TANK!
City homes and buildings outside of the service area of municipal sewage systems use individual septic systems to receive, treat and redistribute wastewater and it carries out of the structure. Finding the right septic tank that matches your water usage is a critical decision that can save you headaches and money in the long term. We're septic system experts who can advise you on the smartest options that fit your property and budget and flush any future issues away.
Septic Tank Basics to Keep in Mind
Only 25% of American homes have septic systems. For those that do, it can be the most expensive aspect of home ownership to be installed or replaced. Making an informed choice about your septic tank can keep initial costs lower. We can also help you avoid later spending on maintenance and repairs, plus extend the life of your system beyond the average of about 15 years. Rub-A-Dub's experts can custom design your best septic tank choice and oversee all aspects of its installation.
The tank receives wastewater that is either gray water (from bathing and washing dishes) or black water (contains human waste), which biologically breaks down into sludge. The sludge settles at the bottom of the tank and a layer of scum and grease forms atop the wastewater. That water (effluent) then flows into the drainfield. There, it seeps through the water table and is further purified.
Need Sewer Line Repair Or Replacement? Call Rub-A-Dub.
Septic Tank Choices & Considerations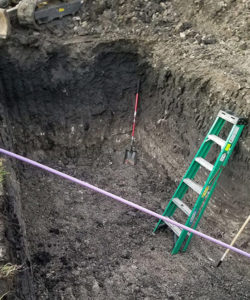 Your water usage, property, and price are all factors that affect what options and decisions you choose. We'll evaluate with you as to what works best for your situation and budget. Factors to be aware of include:
Tanks can be concrete, fiberglass, plastic or steel, each with specific advantages and considerations.
Capacity that can meet your water consumption levels. Residential tanks run from 750 to 1500 gallons.
Property siting is critical. The tank and drainfield need to be located where there is little that vehicles will roll over the tank, damaging the system.
Water table and the soil and other layers beneath the drainfield are a factor.
Most septic systems are passive driven by gravity with no mechanical parts; however, there are cases that require an active system with a pump.
We can project manage your installation, including heavy equipment digs, and meeting all state and local requirements. Rub-A-Dub Plumbing will make sure your septic system works, And we pledge to leave your property – not just clean – but "SQUEAKY  CLEAN" when we're done.
What you'll get when you hire Rub-A-Dub's SQUEAKY CLEAN Plumbers:
The best choice to ensure your septic system meets your needs.

The most cost-efficient suggestions for tank and installation.

A maintenance schedule that keeps the system in tip-top shape.

A truck that's a Warehouse On Wheels.

Upfront Pricing that leaves no surprises on your bill.

Wastewater efficiently disposed of.

A little blue duck to remember us by.
No matter where you live in East Texas from Corsicana to Tyler, Lindale & Mineola, Rub-A-Dub Plumbing is ready to serve you! We deliver relief from life's annoying leaks and other household problems. Our customers can have total faith in our capabilities. We are fully licensed, insured, and trained. We'll also be sure to explain our services to you in terms you can understand.
OR Fill Out the Form Below!
At Rub-A-Dub Plumbing, we've got our DUCKS in a ROW.
THE SQUEAKY CLEAN
PLUMBING EXPERIENCE
SCHEDULE SERVICE:
CLEAN PLUMBERS
MAKE FOR SOME
Squeaky
Clean
Pipes!